Everything is up in the air. That might be the mantra of Celine, Emil and Åse. They live in a nexus of opportunities, where travel, work and family life are not mutually exclusive. Quite the contrary. Everything kind of flows together.
"We chose this independent life. Because it allows us to travel. And manage our own schedules. So we're not locked into those six weeks of holiday every year. It's a very conscious choice. A way of life we choose."
Fluid work and leisure
Some do best with fixed boundaries. And admittedly, according to Celine, a certain amount of rhythm and structure in everyday life is necessary to make it all to work.
But other than that, she and her family do not belong among the former. In other words: Their purpose in life is not centred around fixed boundaries and work. Almost the opposite.
Because Celine and Emil do not live to work, but work to live. They are passionate about their jobs as, respectively, a creative stylist and producer, but this doesn't necessarily mean renouncing other and deeper values:
"We love our work. But everything flows together when you're self-employed, doing something that's also your hobby", Celine says, and continues:
"So, it all becomes very fluid. There are no hard, definite boundaries between work and leisure. For us, freedom is being able to go to the places we want to go, and work can just come along."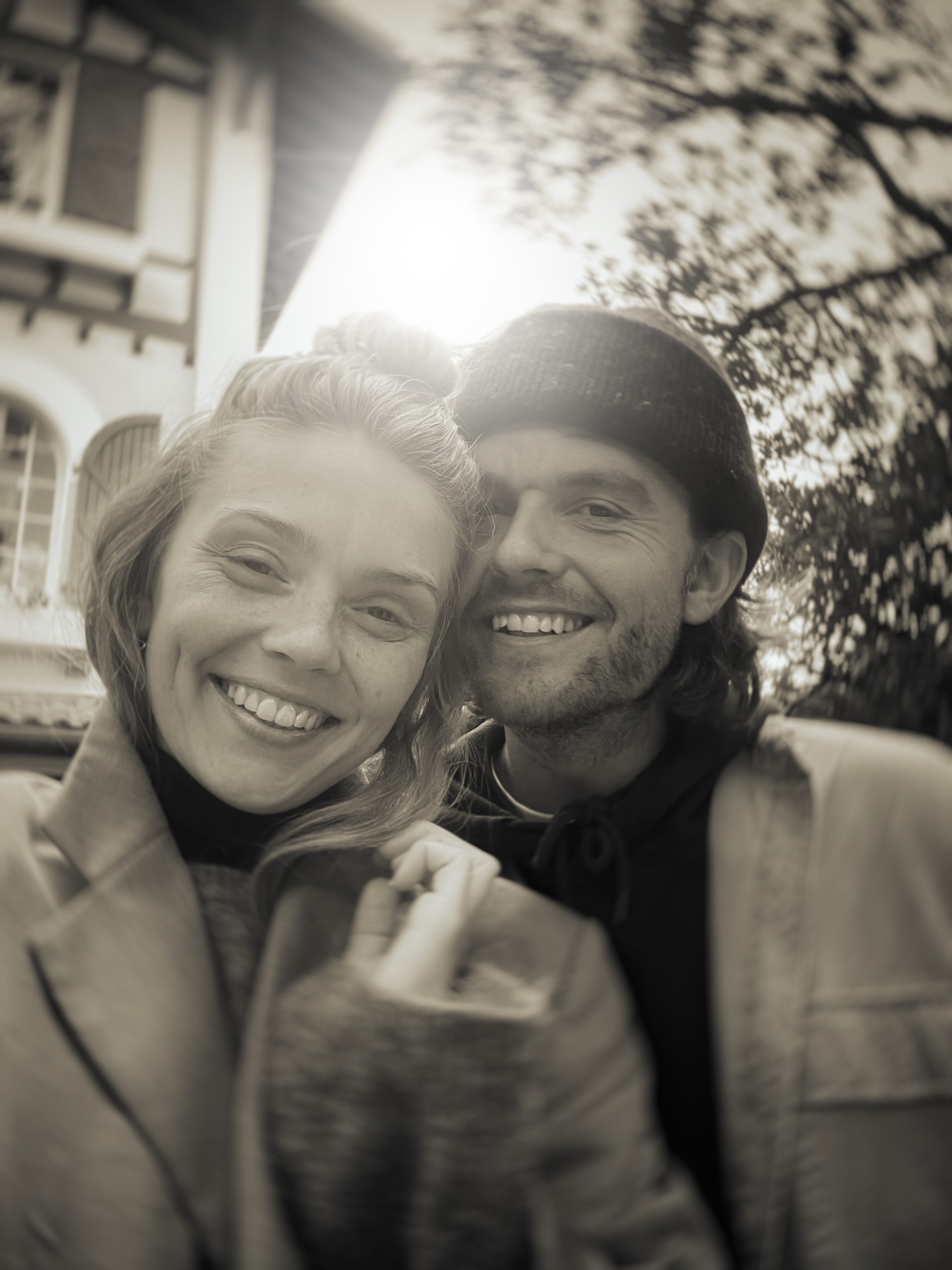 "THERE ARE NO HARD, DEFINITE BOUNDARIES BETWEEN WORK AND LEISURE." FOR US, FREEDOM IS BEING ABLE TO GO TO THE PLACES WE WANT TO GO, AND WORK CAN JUST COME ALONG."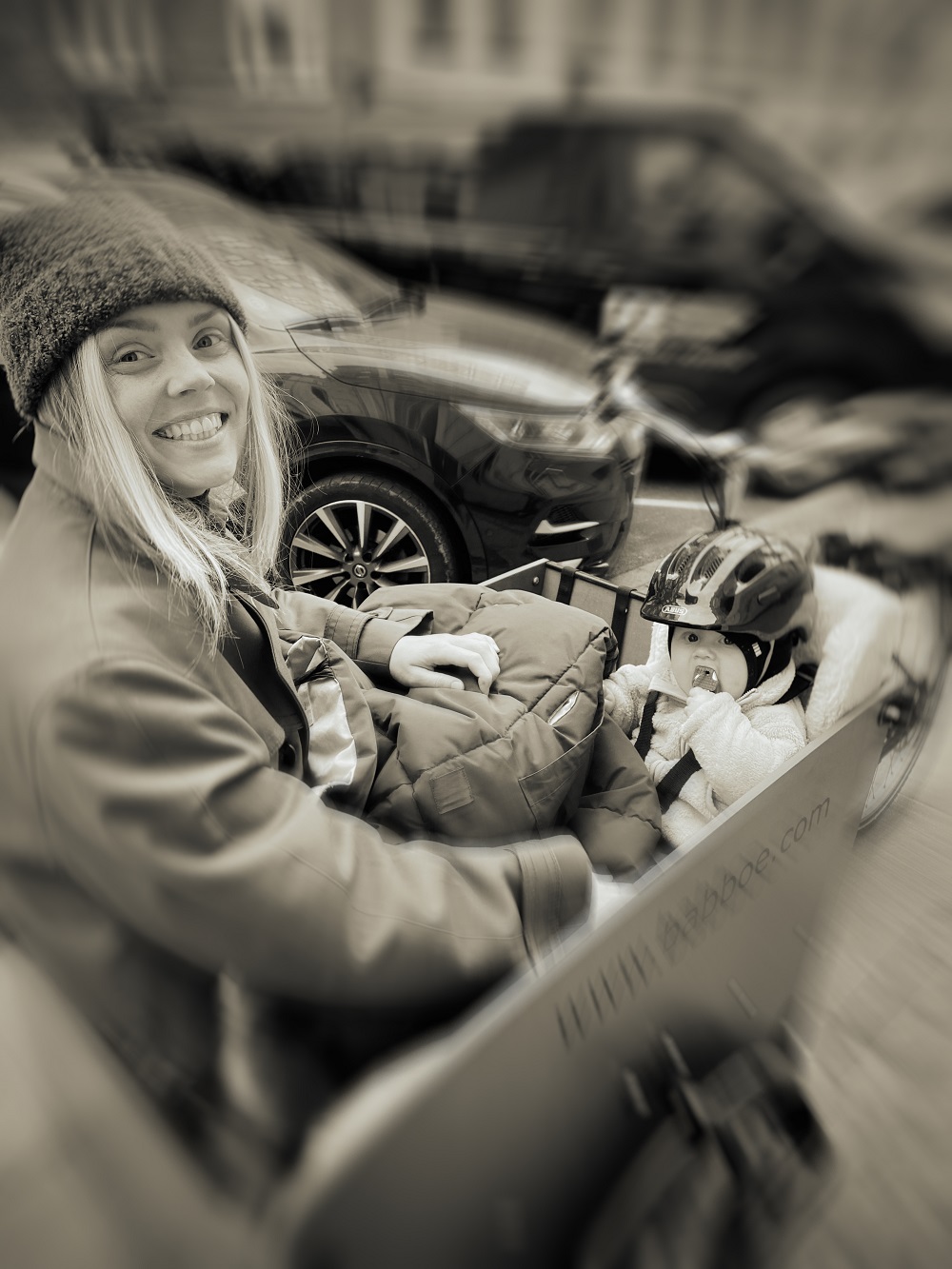 "EVERYTHING IS UP IN THE AIR. FOR US, IT'S JUST ABOUT BEING ABLE TO LIVE SPONTANEOUSLY AND NOT GET STUCK."
When distance gives closeness
In the wake of COVID, distance is not just an evil. We may not need to shake hands at the office every single day. In a digital era, Celine and Emil are living proof that a different way of life is physically possible in practice:
"Åse is nine months old, and she's an easy child. Of course, combining things with work brings challenges. But it's also wonderful. Being self-employed, we're privileged in a way, so we really can't complain," Celine says with a good deal of humility.
"For us, it's about working as little as possible. Taking home just enough so that we can take time off. Or we can take a production with us. A lot can be planned from anywhere as long as you have access to a phone and your email."
"WE CHOSE THIS INDEPENDENT LIFE. BECAUSE IT ALLOWS US TO TRAVEL. AND MANAGE OUR OWN SCHEDULES. SO WE'RE NOT LOCKED INTO THOSE SIX WEEKS OF HOLIDAY EVERY YEAR. IT'S A VERY CONSCIOUS CHOICE. A WAY OF LIFE WE CHOOSE."
That square A4-shaped life, it just stresses us out thinking about it
Celine and Emil openly declare that they work to live. It's about being. Working, travelling, being with the family, adding value and prioritising each other, even on the greyest, blandest of days:
"I mean, that square A4-shaped life, it just stresses us out thinking about it. Every day being the same. Everyday life has to be something to look forward to, not just something to get through."
"You can't just live for the weekends and holidays. We try to embrace every day with just cool little things that bring us joy."
Film, photographs and reality
It is a life with authenticity inside. Where dreams must be brought to life. This is reflected in the couple's production company, Wergeland Pictures, which develops and produces visual campaigns for e.g. fashion, music and lifestyle. With Celine as the creative part and Emil in the producer's chair.
And this is reflected in the attitude towards the KURAGE project Real People, Real Homes, where Celine and Emil open the doors to their home for a series of personal photos:
"I'm really FOR using 'ordinary' people instead of presenting something that doesn't exist. Real People, Real Homes involves real people in real homes, although of course it's also a staged reality with a camera lens. But it adds another level of credibility, one we also work with ourselves."
Prospects for new adventures
For Celine, Emil and Åse, the future awaits. Not in an ominous way, but as an expectation of new opportunities and an almost Hans Christian Andersen-like fairy tale that doesn't presuppose localised necessity:
"We just dream of continuing this lifestyle. Where we can travel and take our jobs with us", says Celine and rounds off with prospects that only support the family's cemented vision of a life where lines are blurred:
"We also dream of having a few more productions in e.g. Norway, where I come from, so that we can be with my family too. Maybe live up there. We're really like… you know, EVERYTHING is up in the air. For us, it's just about being able to live spontaneously and not get stuck".